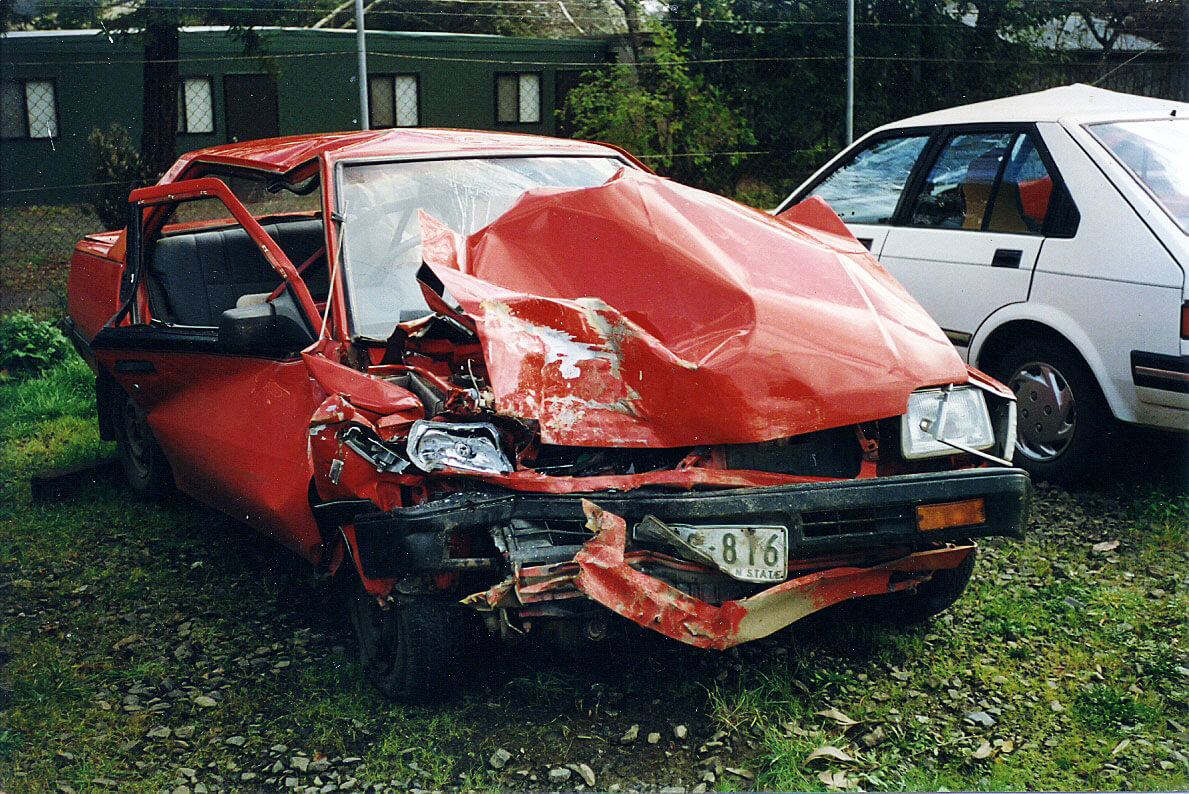 Trauma – Suddenly, Out of the Blue, Disaster Struck!
Life was hectic for me, with absolutely tons of work getting the new business successful, juggled carefully with my life as a single mother of 4 young kids!
THEN SUDDENLY…..
It was 21 July of 1997. There was a knock on the door of my home at around 9 pm. This gave me quite a start as I was not expecting anyone.  The kids were in bed and I was feeding the baby, but luckily I had a friend visiting who answered the door for me.  This is the type of visit one never wants to experience. Two police officers were standing outside!
Trauma
Such shock fell over me as they did their best to convey the news. My mother was in an extremely serious condition after having been involved in an almost fatal car accident only a few kilometres from her home.  She was in fact so severely injured that the female police officer, who knew me well because Warburton was only a small town, strongly advised that I didn't go to visit her in the hospital for a few days. She suggested that the trauma would be too intense for me, and my mother was in a coma meaning that she would not know I was there anyway.
My world toppled upside down!
Disaster Struck!
My mother had been with us minding the kids that day.  She stayed a little longer than her usual time to leave. Being a mid-winter cold and dark night, I had tried to encourage her to stay the night.  Sadly, she declined and drove home.  She was but a few bends from her home when she went almost head-on into an oncoming car on a curve.  It was right on a small bridge, and with nowhere for either driver to swerve, they hit full force!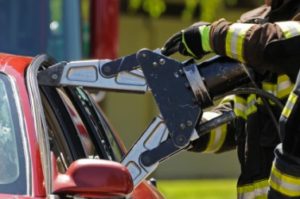 Releasing her from the wreckage was an arduous task, requiring the Jaws of Life to cut most of the driver's side of the car away so as to get her out.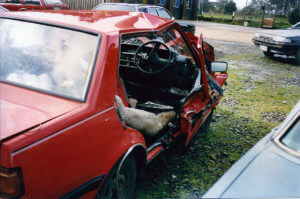 The SES and Ambulance Officers are amazing people, working so hard to do their best for so many people!  They needed to work for several hours as they freed her, all the time trying to keep her alive.  Her car had been hit so badly that the steering wheel had been pushed right up to head level, wedging her face against it and the side wall of the car.  Her injuries were brutal.
Ambulance Helicopter
Once freed, she was transferred by Air Ambulance to the Alfred Hospital Emergency & Trauma Centre.  There they provide medical care for people who are acutely ill and injured.  The ambulance helicopters are used as an emergency response to critical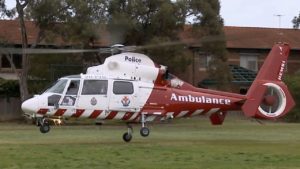 medical situations. They can provide an advanced level of care, quick attendance and fast transport of an injured patient to a major hospital.  The local hospital was too small and ill equipped to handle her extensive injuries.  The location of the accident was at least a 1.5 hour trip to the city by road, so helicopter was essential to get her to the emergency department as soon as possible.
Massive Injuries
My mother remained in a coma for well over a week. When we went to visit her the police officer once again spoke to me about the extent of her injuries. She was doing her best to brace me for the shock of seeing her in such a dreadful state.  My mother was unrecognisable! Her poor face was swollen and distorted from the major trauma she had suffered.  Almost every bone in her face had been smashed!  Amongst a multitude of serious injuries she had received massive head injuries. This resulted in both the total loss of her eyesight as well as the loss of her Spatial Memory; basically incapacitating her completely.  She was also immobile because of extensive breaks to her legs and ankles.
She remained at the Alfred for about one month. Because her injuries were so extensive and so major, she was then admitted to the Victorian Rehabilitation Centre in Glen Waverley. She resided under their care for 6 months.

Thank goodness that the Transport Accident Commission (TAC)  funded her costs.  The TAC is a Victorian Government-owned organisation set up to pay for treatment and benefits for people injured in transport accidents, promote road safety and improve Victoria's trauma system.
What to do now?
After her accident, I was at a loss as to what to do.  My mother had been my main support, and without her care and assistance I was unsure how I was going to be able to continue with my business.  I closed the shop for a week as I came to grips with what I was going to do.  It was not only the running of the business that concerned me, but how I was going to look after my children as well.  Up until that time I had been paying a Nanny for half the week. My mother had looked after them for the remainder, but at no cost to me.  In addition, the emotional upheaval in handling this tragedy rested heavily upon me.
My first reaction was a definitive no! I would not continue with the business as I didn't see how it would be possible, both emotionally and financially.  I pondered, I meditated, I spoke with others to gain advice and their opinions.  The Nanny that I was using prior to the accident could not work full time. As I had the Gallery open 7 days each week, it would mean I would need to have two Nannies. More complications!
Continue on and succeed
After much deliberation I decided that I must continue with the business. This was specifically because I needed an income to enable me to look after my children, and basically, to survive. Only a couple of years prior I had taken out a mortgage to purchase a house. I simply had to keep these payments going as I definitely didn't want to face going back into the insecurity and upheaval of rental accommodation.
So, having been closed for a week, I then reopened and was determined to make things work well.   I used a Nanny Agency and had two Nannies available to start immediately.  The Gallery hours were 10am – 6pm, so I arranged that the Nannies prepared the dinner and I ate with the children soon after I got home. The Gallery was only 5 minutes from our home, so this was a good arrangement.  My youngest was only 18 months old at the time of the accident, hence I wanted to be sure that our home life was as good as I was able to make it. I employed a good friend to look after the Gallery one day per week, which enabled us to go to the hospital to visit my mother.
Life goes on
Life settled back into a routine, and we were very thankful that at least my mother hadn't been killed. Although she felt otherwise and struggled immensely to come to terms with the loss of her eyesight and her serious injuries.
A little over a year after I moved into the building that housed my Gallery, the existing landlord decided to sell, due to family reasons. This was just 2 months after the accident. I was desperate to have purchased it myself, but sadly my finances and circumstances didn't allow for this. After an auction in September 1997 we then fell under the hammer to a new landlord.
ANOTHER MAJOR LIFE CHANGING EPISODE HAD JUST BEGUN FOR ME ……