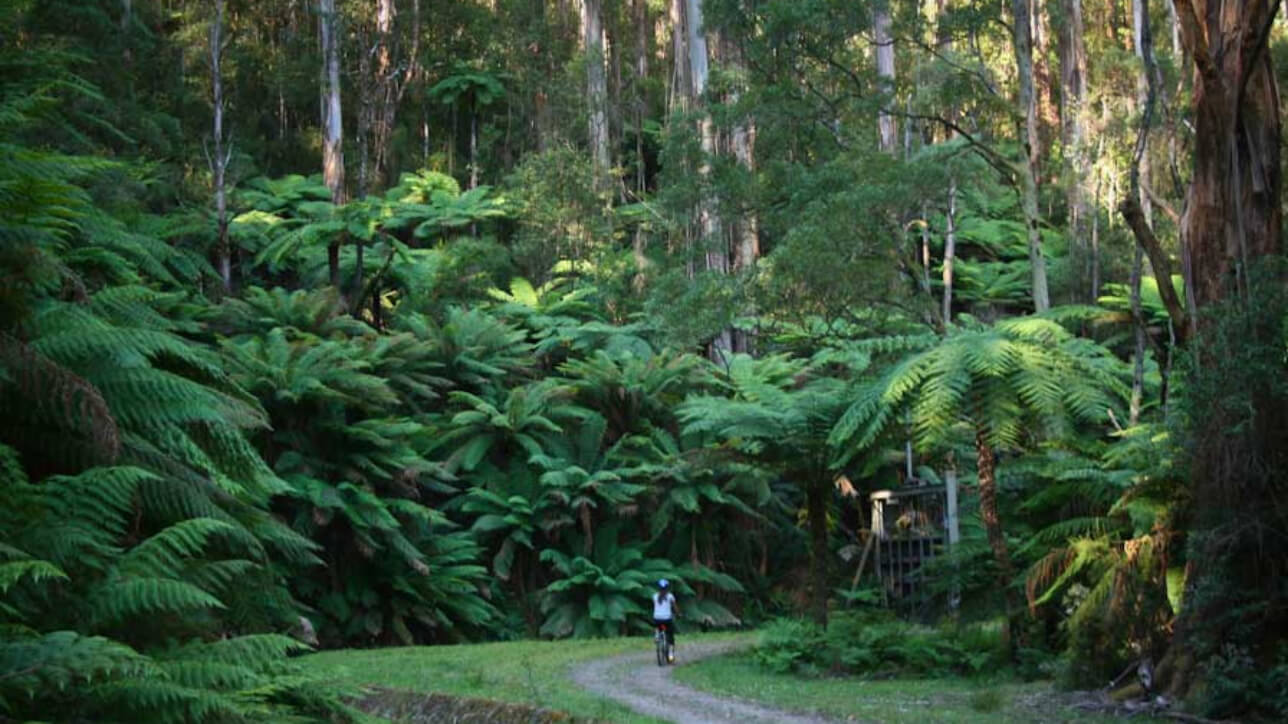 A New House and New Chapter of Life was about to begin
Finding a suitable house in Warburton, in which to successfully look after my mother, was a very difficult task.  With 4 kids and 2 adults, I needed something large, and the most important aspect was to find something that was suitable for someone as injured as she was.  Being totally blind was dreadful, but the blindness coupled with the loss of her spatial memory meant that she had absolutely no concept of the space around her.  In fact she could no longer relate to such things as to where NSW was in location to Victoria, for example, so the idea of space had been totally removed from her mind. A New House and New Chapter of Life was about to begin.
This meant that instead of being able to learn to get around without the use of her eyesight, she would never be able to grasp this ability, because she had no way of ever understanding which way was up or down, let alone to remember how to get around a totally black space that had no guideposts in her mind.  This was the most devastating aspect of her injuries, and of course the most emotionally traumatic for her as well.
Massive Injuries
Having previously been a very active person who adored working in her garden, she was now grounded to a chair, from which she could only move with assistance given by another person.  The sad aspect of this injury to her eye sight was that it was caused whilst the ambulance men were doing their best to keep her alive.  Because of the massive injuries to her face, she was losing a huge amount of blood, and to stop this loss the paramedics needed to use swabs.  In this process they accidentally severed the optic nerves in both eyes as they pushed the swabs around inside her face.  Had her eyesight remained intact, the loss of her spatial memory would have not had anywhere near the same impact. But the combination of the two injuries totally debilitated her.
Relocating
The need to locate to another house was an emotionally trying time for me for several reasons. One of which was due to the fact that I had only recently managed to purchase our own house and I was involved in many incomplete renovations.  Having struggled for years whilst leading up to having the financial ability to purchase this house, it held great significance for me. But now I was needing to sacrifice this place so as to assist my mother with her needs.
New House and New Chapter of Life
After a few months of searching, we finally came across a perfect house for rent.  Not only did it have 4 bedrooms, but the lower level was fully self-contained. There was a large bedroom with an ensuite, plus a lounge area. This was very suitable for a private space for my mother.  There was a drawback in that it had stairs. But as we had not found anything else as good, we decided to take it.  An additional bonus was that the owners were wanting to sell it. They were willing to give us a one year lease with the option to purchase it after that.  This would give me sufficient time to complete the renovations on my own house. Selling it to purchase this rental house was all looking very rosy after all.
Rehabilitation Hospital
The Rehabilitation Hospital had set the first week of the new year (1998) as the time my mother was able to leave their care.  My kids and I shifted from our own house just prior to Christmas 1997. This allowed us a couple of weeks to get my mother's house and belongings all packed up and shifted as well.  She was renting her house from a friend, so it was just a matter of giving notice once we had things organised.  All of this relocation was an additional massive load on me. I needed to attend to everything at the same time as ensuring my Gallery continued operating. Plus trying to finish off the building works I was doing there.
I had been employing a young single mother, Marion (real name withheld), in the Gallery for the previous few months. As it turned out, she was also needing to look for a new place to live with her young daughter.  I offered her my home to rent, and she gratefully accepted it. She shifted into the property just days after we vacated it, being a few days before Christmas.
Christmas
Christmas came and went smoothly and my mother left Vic Rehab to shift in with us on 7 January 1998.  Even though I was sad to leave my own house, we were all very excited to have my mother home from hospital. My kids were proud to be able to help with her care.  The TAC had arranged to have a permanent carer for her for 8 hours each day. This was a great help for me with all that I already had on my plate.  It also meant that I was able to leave her with the carer when it was necessary for me to go down to the Gallery, go shopping, etc.
We were comfortably settling in to our new home!
Our New House that commenced a New Chapter of Life
All that I have related to date is to give you a prequel that leads up to the next impacting event ………