I have embarked upon a Patreon campaign. Have you ever heard about Patreon? If yes – that's great. If not – here I am telling you about it 😉
What is Patreon?
Patreon is an absolutely fabulous way for creators to earn ongoing revenue directly from their fans. As a creator, I am reaching out to you to become involved and buy me a coffee or a pencil, metaphorically speaking, each month. With lots of other supporters contributing in the same way, it will be super helpful for my project. You can read more about it all on my Patreon page. If you like what I do, and would like to support me in reaching my final goals, please consider supporting my work on Patreon for as little as $1/month. My work is entirely funded by patrons like you. Thank you so very much.
Why become a Patron?
Patreon is a way to join my community and pay me for making stuff you will love – books, podcasts, movies, and so on. This means the creator (me) gets paid regularly, and you become a bona fide, real-life patron of the arts. And imagine – with my successful Patreon campaign I can be making a living doing what I do best… because of you 😀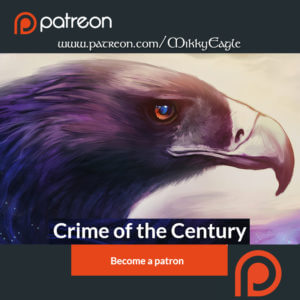 This is Patreon's philosophy:
We love creators
Our mission at Patreon is to fund the emerging creative class. We're going to make this happen by building the best place for creators to make money, run their creative businesses, and to gather, grow, and energise the fans who matter most.

---
What is my Patreon campaign?
I am a writer, an artist, and a lover of peace and the beauty of nature.
I also stand for truth and honour, believing we all deserve justice, equal rights and dignity.
In putting my life experiences into Books, I am creating Podcasts and Videos as well, because I have a lot of big stories to tell! I would very much love to have my stories told in film!
If you become involved in my work I would be so honoured, and in so doing, your patronage will help me to achieve my end goals – and my gratitude will be overflowing. By supporting me and following along with my progress, I will take huge pleasure in sending you goodies in exchange. I can't do all I need to without your support – so huge thanks in anticipation!!
" The Eagle has landed" is a term I am sure most of you know, and it indicates the completion of a mission objective. I am working very hard towards announcing that very phrase!

How will YOU be Rewarded for your generosity?
Each and every dollar that you give will go towards enabling me to have the time and ability to write and create. You then get to READ all that I produce, as I write it and before it becomes public. As I can afford, obviously connected to how my Patreon base grows, I will be offering extra little perks and goodies to say thanks.
I am also setting Goals, and as my Supporter base grows, so shall the Goals. For example, if I can afford to pay someone to assist with the running of my family's retail business, that in turn frees me up a lot more to do the really important task of writing and achieving!
~*~ There is no order of difficulty in miracles ~*~
~*~ One is not "harder" or "bigger" than another ~*~
They are all the same.

In other words – every Supporter who offers a dollar is just as important and appreciated as those who can afford and desire to offer more – it will all go equally towards helping me achieve my Miracle! I guess for you it's a bit like buying me a cup of coffee every now and then, or a new pencil or pen. When there are enough of you, I can do amazing things and work hard for my cause of justice and closure. I sincerely trust that will come to fruition.
The details of the rewards I am offering are written down the side of the Patreon page. Each Reward opens a new and different door for you, and my way of conveying my thanks. Most of what I offer will be electronically given, although those of you who support me at a higher level will receive physical items as well, from time to time.
The way Patreon works is that a reader can donate any amount they choose per month and the donation is recurring each month after that until you decide to stop. So anything, from $1 per month upwards, is hugely helpful to my cause.
A Patron is a person who gives financial or other support to a person, organisation, or cause – so a very BIG THANKS for becoming one of my Patrons 😀

Why Patreon?
Not actually having a fan base is my biggest hurdle. Being rather a recluse for many years now. I am trusting you guys will help me in that regard by sharing my page and telling all your friends and associates – anybody at all actually!! That will be just great, and cover the first lap of this marathon.
The concept of a Patreon campaign is simply wonderful. If each of you can just contribute a tiny bit of cash, I am trusting that it will all build and thus enable me to create more and more, achieving amazing results. As most artists know well – making sufficient income to live properly leaves so little time left to do what is in their life blood, as it is in mine ….. and that is to CREATE!
I have two very important goals. One is to gain justice for the harsh crimes committed against me (and sadly, legal fees are massive), and the other is a joint goal of both writing books and getting a movie made. Alongside these goals I also take great pleasure in offering my time as a Mentor to others who have experienced wrongdoings and/or trauma in their lives. I encourage Writing for Wellness. To release the burdens from one's shoulders is an extremely healing process that can be achieved through writing. Some of my Rewards will reflect those loves I enjoy.
For years and years I have yearned to write, but life has always dictated to me rather severely. Time has never allowed me to fully indulge my passions. As I am moving on in years, I feel that more sacrifices need to be made so I can finally fulfil my desires to write. Now I sleep even less than before! Then this particular crowd funding platform came along. So, here's hoping my Patreon campaign will allow me to follow the yellow brick road guys 😉
I started my career as a secondary school teacher, predominantly of Art and Craft. After realising that a bureaucratic workplace was definitely not my thing, I left the Education Department to open my own Art Gallery. I have enjoyed retailing art and associated items for many years now. But I still yearn to create more than I do. What holds back creativity? The relentless cycle of making money. I am trusting that you guys will love my writings and thus dip in and assist me to free up my time allowing me to create, create and create!


Thanks heaps to everyone who becomes a Supporter of my Patreon campaign. I sincerely appreciate you for enabling me to follow my dream 😀